Windsong Properties Earns Prestigious National Housing Quality Award
Posted:
October, 13, 2022 |
Categories:
News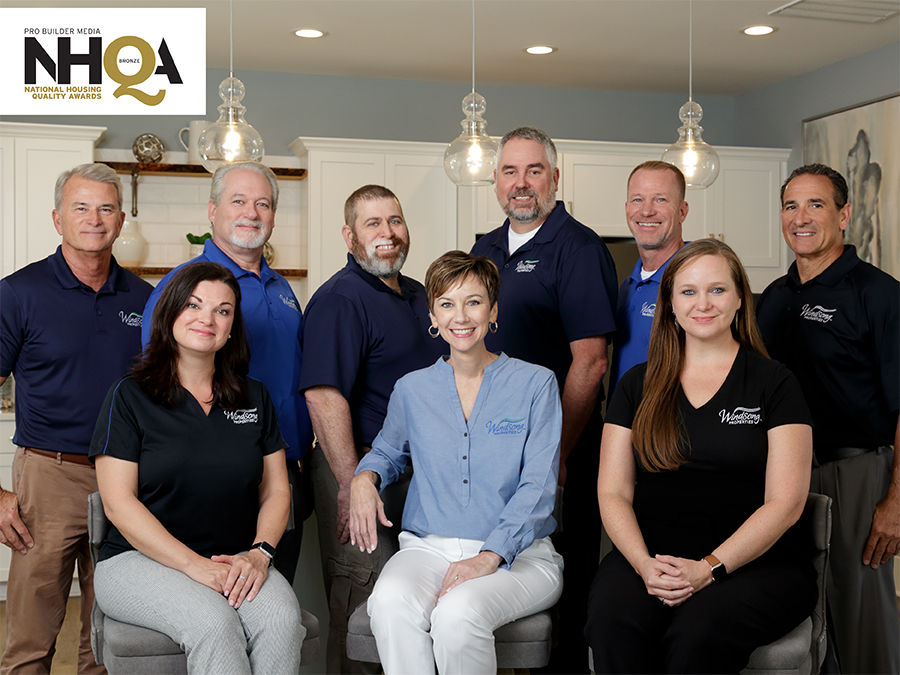 Windsong Properties Earns Prestigious National Housing Quality Award (NHQA) Bronze
55+ homebuilder lauded for customer focus, organizational culture and team environment
ATLANTA – October 13, 2022 – Windsong Properties has been named a Bronze level winner of the 2023 National Housing Quality Award®, sponsored by Pro Builder Media (NHQA), an elite recognition of operational excellence following a rigorous evaluation process.
The NHQA is reserved for companies who demonstrate a sound, systematic approach that is responsive in multiple categories -- including leadership, strategic planning, process management, customer satisfaction, human resources, construction quality, trade relations, and business results. It includes fact-based improvement processes in key areas and no major gaps in deployment
Judges identified three key areas of significant strength for Windsong.
First, they cited a customer-centric focus that "contributes to high levels of customer satisfaction."

Further, judges were impressed by Windsong's strong organizational culture, noting that "The company knows its mission, customers, and future direction."

Finally, judges observed a "robust team environment; employee well-being is a priority."
The observations align with precisely what Windsong founders Mark Carruth and Steve Romeyn set out to do when they laid the foundation for a people-first company in 2003. "We spent a year developing our core values, mission statement, and strategic plan," says Carruth, now Windsong's CEO. "We always believed a successful business is about finding the right people, putting them in the right positions, and supporting them, not only about dollars."
While Windsong set out on the NHQA journey to learn more about itself and to critically examine its processes for active adult buyers in the North Atlanta market, leaders were thrilled to learn of its ranking among top builders – as well as to learn new ways to continue to improve. "Participating in NHQA was always a goal for Windsong because continuous improvement is one of our core values," says Kris Johnson, chief revenue officer. "We wanted to benchmark ourselves against our peers and become as efficient as possible in our processes."
The thoroughness of the NHQA process is part of what makes it so valuable. Applicants first create a statement of intent to apply, followed by a comprehensive application and presentation, which receives an initial scoring by the judges. Top applicants then host the judges – themselves all past gold award recipients -- for two days of intensive examination and discussion. For Windsong, this included a construction site visit and closed-door interviews with trade partners and a select group of employees.
Results include not only a ranking (if applicable) but an approximately 30-page report filled with recommendations and recognitions on the eight key areas assessed.
The Windsong team emerged from the process energized with new ideas to serve buyers even more effectively, including fresh approaches to deepening their trade partner relationships, and a deeper commitment to team-based problem-solving and leadership.
Read more about Windsong's NHQA experience on the Pro Builder website and the digital edition of Pro Builder magazine's September/October 2022 issue.
About the National Housing Quality Awards
Launched in 1993, the National Housing Quality Awards (NHQA) recognizes operational excellence among home builders across the United States. Sponsored by Pro Builder Media and based on the Malcom Baldridge National Quality Awards, NHQA evaluates builders across eight operational categories, including leadership and strategic planning to construction quality, human resources, and customer satisfaction. Learn more at probuilder.com/nhq.
About Pro Builder Media
Since 1936, Pro Builder Media (probuilder.com) has been a leading B2B content provider for the U.S. housing industry, delivering award-winning content in print, digital, video, email, social, and in-person channels. Its editorial mission is to provide practical, proven solutions to help home builders, architects, trade contractors, and other housing professionals thrive in today's market.
National Housing Quality Award