Windsong Celebrates its 1000th Homebuyers!
Posted:
January, 28, 2022 |
Categories:
News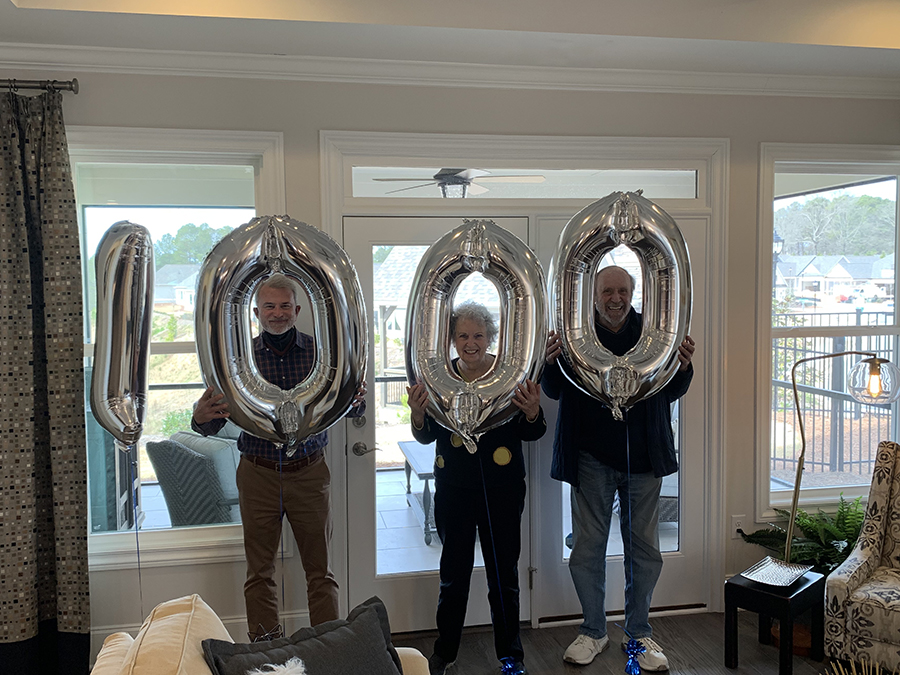 December marked an important milestone for the Windsong Properties family as the newest residents of Marlowe in Woodstock became the company's 1000th home buyers. Ronald and Sondra Nierenberg moved into their new home in December and recently were joined by Windsong Properties CEO Mark Carruth and members of the leadership, sales and building teams for a surprise celebration.
The Nierenbergs moved to Marlowe from Marietta to downsize their home and acreage and be closer to one of their daughters who lives in Woodstock. Originally from Chicago, where Ronald was a dentist for 36 years and Sondra was a real estate agent, they moved to Georgia to focus on being grandparents. Since coming to Georgia, Ronald has also been an instructor in dental hygiene at Georgia Perimeter College and a volunteer with the Marietta Police Department for 10 years. Sondra is a master gardener who has focused on growing orchids and prior to their move to Windsong Marlowe, she had 150 orchids.
That passion for gardening was among the reasons the Nierenbergs chose Marlowe according to Ronald. "Location was a primary factor and then the availability of dirt for my wife's garden. She is an avid gardener who wanted square footage to cultivate flowers, shrubs and orchids." The Nierenbergs selected the Gibson model, the best-selling plan in Marlowe, which features a rear patio and a private courtyard for Sondra to landscape and garden.
The opportunity to become a part of a community with regular activities also appealed to the Nierenbergs. "Prior to moving in and every Friday night since, people would gather for happy hour. We have had a chance to meet our neighbors; it has been an excellent way to get to know them. We paused these for the holidays and Omicron but are looking forward to picking them back up soon," Ronald says.
As Georgia transplants, the mix of residents has appealed to Sondra Nierenberg, "The diversity of people, from all over the country and some locals as well… their diverse lives and where they are from, makes it a nice group of people."
Along with the location and quality of construction, the helpful people they worked with at Windsong also were a reason they chose to move to Marlowe. Sondra says that service has continued since they moved into their new home, too. "I call them the 'Never Say No' team; they are so prompt and courteous," Sondra says. "We are pleased with the attention to detail, and the willingness to attend to any issue and it is all taken care of in a timely manner."
Sherry Vining, from the sales team at Marlowe, worked with the Nierenbergs to match the community, homesite, and model to what they were looking for in a new home. "They were looking for a community where they could connect with others with similar interests. Our front porch lifestyle appealed to them as it would allow them to build relationships with others. I think they saw that we are not just building homes, we are building communities."
While scaled down due to Omicron, the celebration to recognize the Nierenbergs as Windsong's 1,000th homebuyers marked the occasion with fanfare. Windsong CEO Mark Carruth and other members of the neighborhood team presented the couple with 1,000 in balloons, a gift basket for their new home, and $1,000 cash. In addition, Windsong Properties donated another $1000 to their favorite charities in their name. "We are still in shock and reveling in the generosity of Windsong management in honoring us," says Ronald Nierenberg.
"The opportunity to meet the Nierenbergs was one I did not want to pass up. After nearly 19 years and 20 communities built, meeting our 1,000th home buyers was an honor for me and a reminder of how much our team has accomplished," says Carruth.