Two Windsong Employees Move into New Roles
Posted:
April, 11, 2022 |
Categories:
News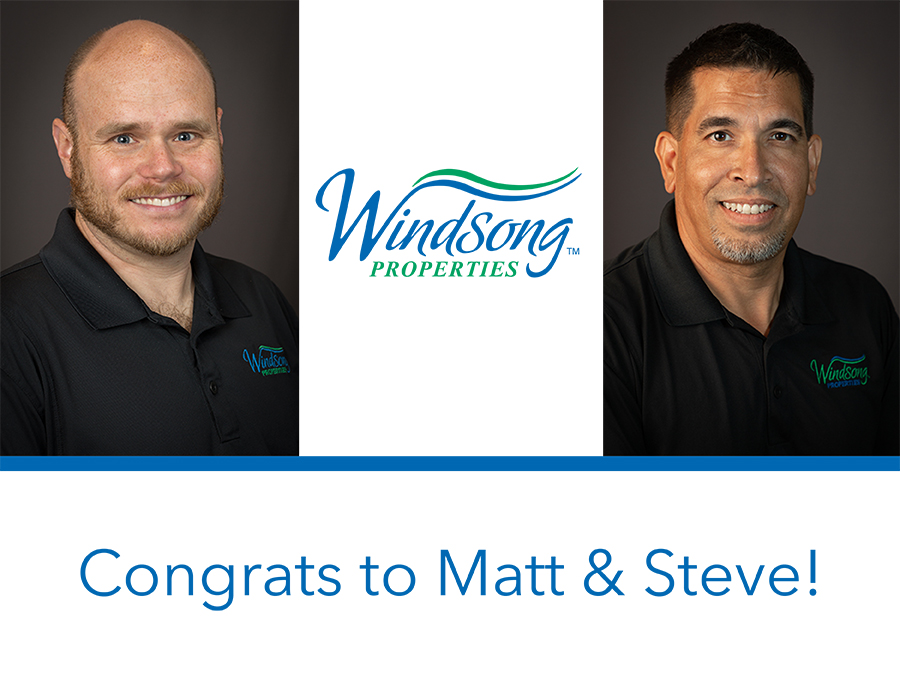 Two Windsong Employees Move into New Roles on the Land Development and New Home Warranty Teams
For over 19 years, as Windsong has established itself as the premier developer of active adult communities in North Atlanta, the secret to that success has been its employees. Windsong employees have the opportunity to learn and grow into new roles that allow them to thrive along with the company. Today we are happy to share the latest examples, Matt Benson and Steve Bronner.
Matt Benson began his career at Windsong in the New Home Warranty department, working with new homebuyers after they moved in to address any needs during the first year to ensure their satisfaction. This role gave him an understanding of the new homebuyers' experience, including what they look for in a home and a community. That experience and understanding is an asset for Matt as he begins his new role as assistant land development manager.
"Knowing the issues we have seen on the warranty end, we can bring those to the forefront at the beginning of development," said Benson. "Things like installing plants, fences and berms, doing those on the frontend of a project makes it more efficient for us."
As part of the Land Development team, Matt helps take a newly acquired parcel of land and gets it ready for the construction team to begin building homes for new Windsong buyers. This is in addition to the overall development process which includes developing the plan for the community, clearing land, building roads and installing utilities including sewer and power.
"It is exciting to learn a new aspect of the company. I was in warranty for seven and a half years, and this is a whole new dimension of the building process," he said.
Steve Bronner joined Windsong in Warranty and soon moved over to be a Finish Manager, an important member of the construction team focused on the details that set Windsong homes and communities apart, including appliances, fixtures, and the overall look and feel. Prior to joining the company, he built his career in the field of maintenance, warranty, and repair of multi-family and single-family homes. Through this work, he has gained a wealth of experience interacting with people, which is invaluable as a member of the Windsong team.
Steve takes this experience into his new role as a new home warranty assistant manager. "I am going back to my roots; I started as a tech in Warranty when I started with the company," said Bronner. As a part of the Warranty team, Steve is a resource for new Windsong homeowners, dedicated to working with them to assist in resolving any issues and providing the best service and experience possible in the year after they close and move into their new home. "This is a good way to share knowledge with the warranty team and I can put my experience in the field to work to help the company grow as a whole. I welcome the change."
Along with his growth on the Windsong team, Steve is dedicated to continuous education and has earned his EPA Universal Certification, CPO Certification, and HPC Technician Certification. His extensive knowledge and professionalism will serve him well as he works closely with new Windsong home buyers.
Like Steve, Matt also noted that, "Promotion from within is encouraged here. Moving knowledge around from department to department makes us stronger. We can see things from another point of view when people spread out to other departments."
Please join us in congratulating Matt and Steve on their new roles.