Two More Windsong Employees Move up the Ladder
Posted:
May, 17, 2022 |
Categories:
News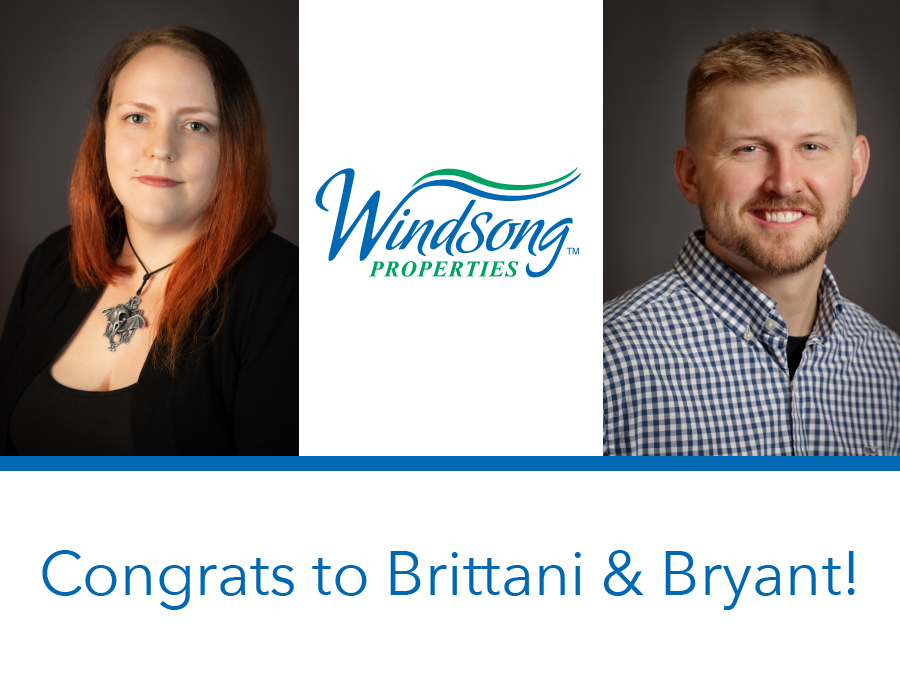 Continuing our effort to build the best team in the residential building industry, Windsong has promoted Brittani Cassidy to purchasing agent and Bryant Pollard to estimator.
We love finding opportunities for our employees to grow into new roles; it empowers them to build their careers while strengthening our team with cross-functional knowledge.
Brittani Cassidy
As a purchasing agent for Windsong, Brittani works closely with vendors and contractors to ensure each construction project has the supplies and skilled tradespeople needed to complete and deliver the home on time. She focuses on materials, payments for materials and services, and permitting -- all necessary ingredients to getting houses built.
Brittani was an estimator at Windsong for more than four years and now brings that experience to her new role. "My understanding of how the system works made learning the purchasing agent role streamlined for me. Having the relationships with the builders and vendors from estimating, really lent itself to stepping into this role," she says.
"Moving into the new role was appealing. I had an urge to learn more and to expand my knowledge within the company so I could continue to grow and be more helpful."
In Windsong, she found both opportunity and enthusiastic support. Brittani says, "The company is always 100 percent behind internal progression. Upward mobility is first and foremost for all employees. When new roles open up, they first look to find someone internal so they can grow within the company and make that natural progression."
Bryant Pollard
Bryant Pollard recently moved into the role of estimator for Windsong Properties. He manages overall costs for labor and materials for homes and amenities and reviews construction plans to be sure they reflect the custom design and amenities selected by the homeowner. Throughout, he works closely with the entire team to be certain everything is in place.
Bryant's role as a finish manager at Windsong's Marlowe community prepared him for this role. "The construction aspect of the job, having been out in the field, made me familiar with what was needed and how things are built and done in our communities. It gives me insight as an estimator," Bryant says.
Driven to Grow
Like Brittani, Bryant sought this new role as a path for personal growth and to increase his contributions to the company.
"I saw this as a way to be a bigger asset to the company while having more exposure to the industry. With my builder background, I can now get more of a behind-the-scenes view into how everything works at Windsong."
For Bryant, making the change also seemed like a natural step at Windsong. "There is always room to grow within the company, you just have to find the opportunity and run with it. There is always cross training which gives you a better perspective from all departments."