Sherry Vining: First She Bought a Windsong Home, Now She Sells Them
Posted:
February, 11, 2021 |
Categories:
Uncategorized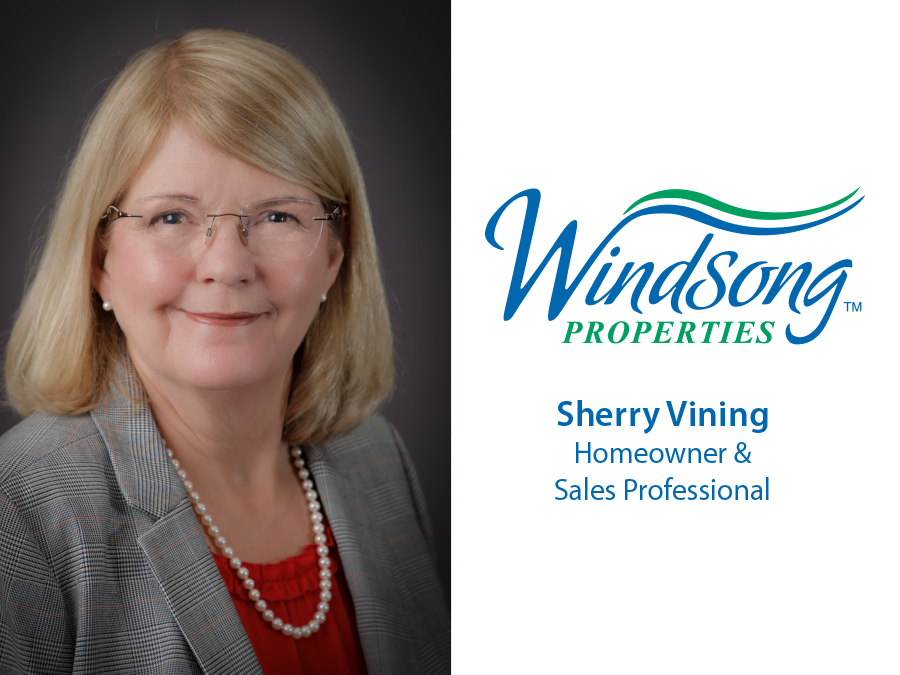 For Sherry Vining, Sales Professional, deciding to join the Windsong team was an easy choice after her experience with buying her own Windsong home.
"My husband and I had to find one-level living because he has a disability," explains Sherry. "We visited one of the Windsong models and knew immediately that was the home we needed because of our day-to-day living requirements. When we found out the floorplan we loved the most was named Harrison, which is our grandson's name, we knew that was exactly where we were supposed to be."
As Sherry settled into retirement, she realized that she missed the daily face-to-face interaction that working a full-time job offered. In her first career as an HR consultant for healthcare executives, she matched people with jobs, helping professionals find the role that fit them best. In her HR career, Sherry enjoyed listening to customer needs and helping them move into the next stage in their life, a skill that now drives her passion for selling Windsong homes.
Listening to the customer remains her favorite part of working with homeowners, especially when she can help them find exactly what they are looking for. "I had a homeowner that came in looking for a home that would suit her and her 22-year-old daughter who is legally blind," says Sherry. "Our dual master fit their needs perfectly and she said to me, 'You are the only builder we've found that offers a plan that fits our needs.' If that doesn't make my job worth it, I don't know what does!"
Working with future and current homeowners to help them achieve their home goals is a large part of a Windsong sales professional's daily work. Counseling homeowners and helping them make a lifestyle change can be daunting, but Sherry enjoys the challenge of making every homeowner happy.
"I get it, I understand it," says Sherry. "I've lived it, was faced with the same issues with my husband. My personal experience really helps me share with them what this new home can offer them in life."
After working in the warranty department for a year, Sherry moved into a full-time sales role. Utilizing her personal Windsong home owning and buying experience, Sherry helps Windsong fulfill our commitment to homes built with care, intention and a standard of excellence.
"I want homeowners and prospective homeowners to know I'm there for them," says Sherry. "That our Windsong team will always be there for our homeowners because they are important to us. We will always do what it takes."
To learn more about Sherry, visit her bio on our Meet The Team page or stop by our Westbrook community. Thank you to Sherry for sharing her story with our communities and making every sale her top priority!