Reflections on Almost 20 Years of Homebuilding for Atlanta's Active Adult Community
Posted:
May, 14, 2021 |
Categories:
Uncategorized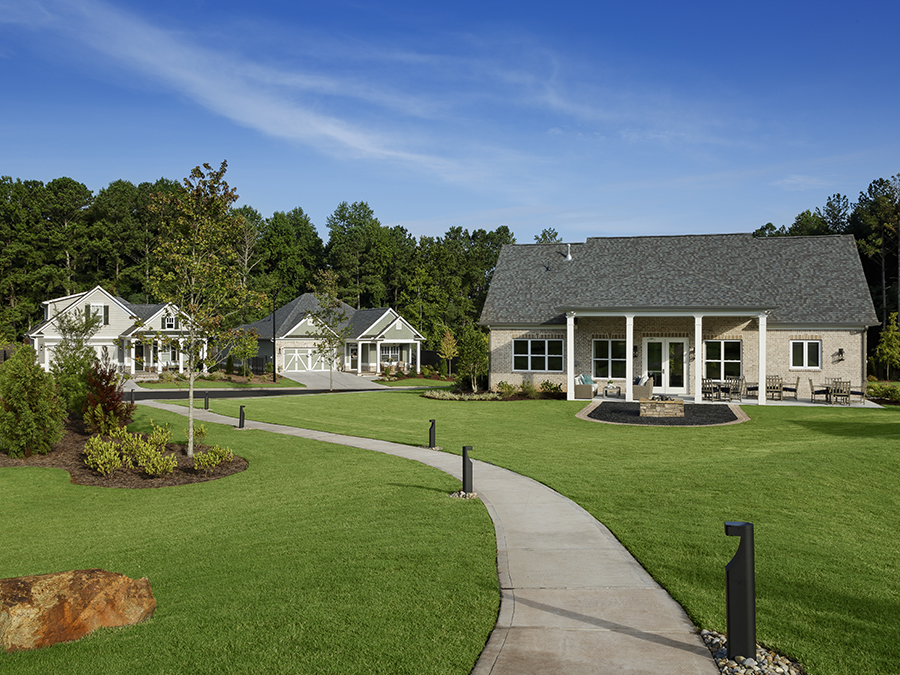 In 2003, when Mark Carruth and longtime friend Steve Romeyn co-founded Windsong Properties, the concept of communities of active adult homeowners was still in its inception. Although the first 55+ communities in the U.S. began in Arizona in the 1960s, Windsong's founders saw that in the Atlanta region there was a significant unmet need for quality homes for the growing population segment.
As a baby boomers themselves, with over 25 years of experience in home building, Carruth and Romeyn were in a unique position to understand what empty nesters desire.
Recognizing that these are experienced homebuyers who understand quality construction and want both style and functionality, the partners set out to build homes that would meet these needs and offer great value.
Enduring Values
From the beginning, Windsong focused on well-built, thoughtfully designed homes requiring minimal maintenance. The concept included not just individual homes but communities where homeowners could walk, gather and socialize -- to fully enjoy an active lifestyle today where they could age in place.
Before the first Windsong homes were ever built, Carruth spent nine months envisioning the principles for the company's enduring mission, vision and values. "Windsong started as a people-first business and that will never change," says Carruth. "Our mission has always been to improve the lives of not only our homeowners, but also that of our team and our trade partners."
Over the years, Windsong has innovated to meet changing times, creating home designs that meet evolving needs and tastes. Today, the focus is on universal design and aging in place. Windsong homes offer accessible kitchen and bathroom features, rounded corners, lots of natural daylight and task lighting – all without sacrificing style. Communities include walking paths, friendly front porches, community clubhouses. They may be in suburban or urban locations, all focused on walkability.
Putting People First
Today, Carruth still spends his days as CEO focused on people. He enjoys getting out in the communities and speaking with homebuyers, builders, agents and trade partners. This philosophy fuels the entire Windsong team, which remains very connected with homeowners and their needs.
Chief Financial Officer Jeffrey Abraham, who joined Windsong in 2019, agrees, "The best legacy we can create is to be a positive force on those around us. The bottom line is that it is all about people and helping them achieve their goals -- both professionally and personally."
Abraham sees his role as much more than just the financial manager and steward of company assets. He strives to be a servant leader and under his leadership, the accounting department's relationship with other departments has transformed, arming them with more information and improving efficiency.
Pandemic and Beyond
The people-first culture and commitment to quality helped Windsong to sustain growth through the recession of the early 2000s -- and particularly over the past year as the pandemic introduced new obstacles.
When the pandemic struck, Windsong was able, within days, to quickly implement remote work for all employees and trade partners who did not have to be on site.
Windsong introduced new ways to engage safely with prospective homebuyers with tactics like virtual home tours and remote document signing, safety protocols for touring models, and the development of a homebuyer portal to keep homebuyers informed every step of the way.
Communication – with homebuyers, homeowners, employees and trade partners -- has remained a priority.
Throughout the pandemic, as Windsong has found ways to work to combat construction supply chain interruptions, government office closings or reduced hours and other delays, the culture of teamwork has come through. We have sustained continuous monitoring of CDC guidelines to keep the building process moving forward as safely and efficiently as possible.
Looking Ahead
The company Mark Carruth and Steve Romeyn envisioned back in 2003 has gone on to establish a top-notch reputation as a premier 55+ home builder in the North Atlanta area. It has earned multiple awards including NAHB Best of 55+ Housing, multiple gold and silver OBIE awards for best building design, a Gold OBIE 50+ Community of the Year, nine GuildQuality GuildMaster Awards, AARP/NAHB Livable Community Recognition and more.
Windsong Properties continues to evolve and push entrepreneurial thinking which in turn provides homebuyers with an experience second to none. This experience would not be possible without the team's commitment to Windsong's people-centric mindset that carries over into all aspects of the company, to positively impact quality of life.