Our Partners, Builder of Choice Series: Timberlake Cabinetry
Posted:
September, 16, 2020 |
Categories:
Our Partners: Builder of Choice Series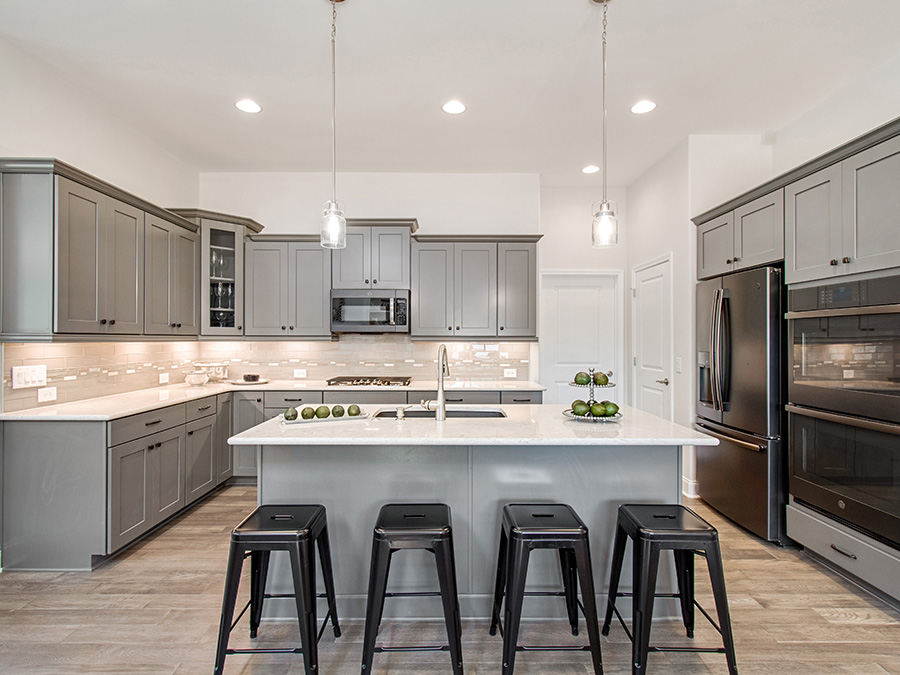 Behind the Scenes at Windsong: Making Space Count
When it comes to storage in their homes, active senior homeowners value quality, style and efficiency.
Alyssa Cornwell, designer and estimator at Timberlake Cabinetry, knows the importance of understanding both the client and the space to create storage that meets every need. Each home's cabinetry draws on Windsong's master plan, to ensure cabinetry is tailored to the active senior homeowner. Then it provides options and personalization to meet the preferences and needs of individual homes and their owners.
"The master plan blueprints are more function-over-style," Cornwell said. "Then once a home is sold, we take that master plan and add the style the client wants." The new homeowner discusses their preferences with our designer, who then communicates with Cornwell to begin the individual designing process. By modifying the master plan to fit the needs of the individual homeowner, Timberlake helps make Windsong homes feel personal. The ability to personalize storage adds value and functionality that suit each homeowner's needs and taste.
Downsizing can create storage challenges. Timberlake Cabinetry helps ensure that every Windsong home maximizes spaces that could be overlooked. Their designs for spaces such as fireplaces, mudrooms, closets, kitchens and bathrooms, allow them to bring expertise to let a smaller home live large.
Accessibility is important, too. In clubhouses and common spaces, Timberlake Cabinetry includes wheelchair accessible space around the cabinets. "Another cool thing we do for Windsong is the vanity spaces," said Cornwell. "We actually build spaces where they can wheel underneath the sink as far as possible to make it easy for them to access the plumbing."
"Being able to work with a designer that knows what the homeowner wants makes our job a lot easier," says Cornwell. "Working with Windsong is so nice for us because they have such a good way of doing things. It's easy to understand their process. I know exactly what is expected, and if I do have questions, I know exactly the person to go to get the answer I need."
At Windsong, our trade partners are just that: partners. We encourage them to bring in their knowledge and ideas to us to make every project excellent. Our Windsong community is only as strong as our community members which is why we work on finding the best partners out there.
To learn more about Timberlake Cabinetry, visit their website.