Living Large in a Windsong Community
Posted:
February, 23, 2021 |
Categories:
Homebuyer Stories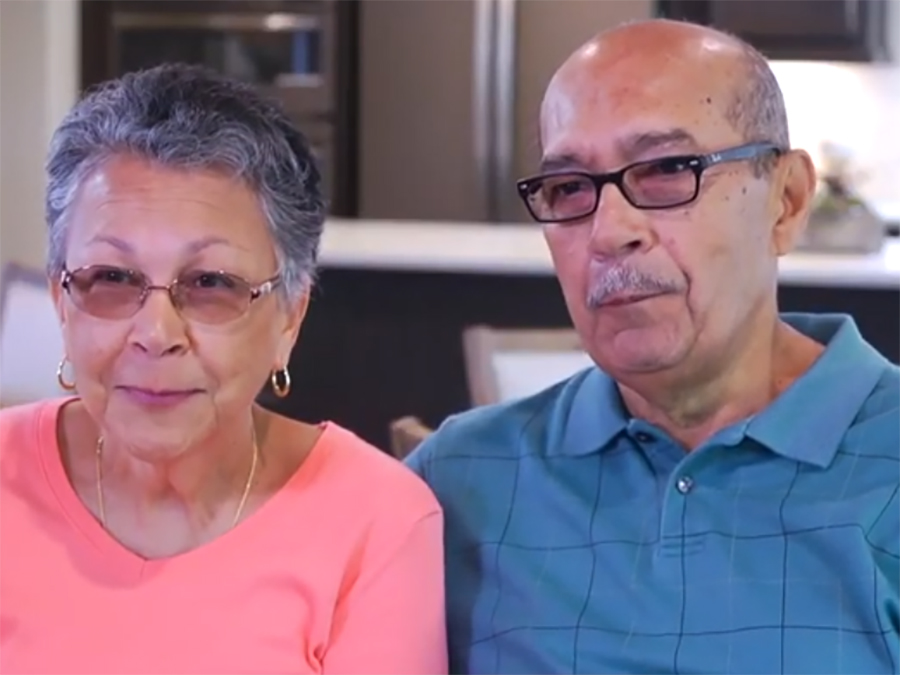 A new home is a new chapter, one that homeowners Adia and Pedro Perez were more than ready to begin. After discovering the community through a relative, Adia and Pedro began doing research on homebuilders in the area.
"I read reviews of builders. When we were moving, I read them all," said Adia. "This is one of the top ones out there. The rest you can have bad experiences with, I think. The construction was smooth; we love the house; we love the amenities and features for our age. Our experience was -- and is -- great from start to finish," she said.
To Adia and Pedro, size was an important factor in their decision to move into a 55+ community. As with many homeowners who downsize, spaciousness was a big concern. But with an open floorplan and wide hallways, their new home felt like the exact right place to start their next chapter.
"I love the house and I love the floorplan. When I tell people that come over the square footage, they don't even believe me," Adia said. "This house is big like that. We both love it."
While they were looking to downsize their home, they also wanted to make sure the neighborhood itself wasn't too large. With a smaller subdivision came the community connection and relaxed environment they were looking for. "It's nice to not get lost in a big subdivision. It's easier to meet people in a community like this," said Adia.
How has the pandemic affected their experience in the community? Before, they observed, "We were just starting to get to know the people that live here well. We really enjoyed that there's always something going on or activities to do. We miss it a lot right now." Still, Windsong communities are finding ways to come together safely, supporting each other through an uncertain time. By gathering in driveways, taking socially distanced walks and even occasionally having outdoor concerts, Pedro and Adia continue to feel connected with their neighbors.
Moving from close by also made their transition easier, with family members and doctors already in proximity. After previously living in resale homes in the area, Adia and Pedro were excited to be a part of the new build process.
Once they'd selected the homeplan, and upgraded options like the master bedroom and the floors, Adia also requested the porch be made into a sunroom. "I like cozy rooms," explained Adia. "It's perfect because I can sit and read or watch TV. To me, that sunroom is ideal."
Asked if they will stay for a long time, Adia and Perez look to each other and laugh. "This is what we talk about. I must have been a gypsy in one of my previous existences because I love to move," joked Adia.
"That was a big thing when we bought this house. I said, 'This is it!" said Pedro. "And she said, 'I cannot guarantee that!'" They laughed. "All kidding aside, hopefully this will be our last home. It's a good place to stay." Ada agrees, "I strongly recommend Windsong; I tell everyone I know to go to them because they do great work."
To hear more from our wonderful homeowners, watch their video on our Testimonials page.