Kris Johnson Celebrates 15 Years with Windsong
Posted:
October, 6, 2022 |
Categories:
News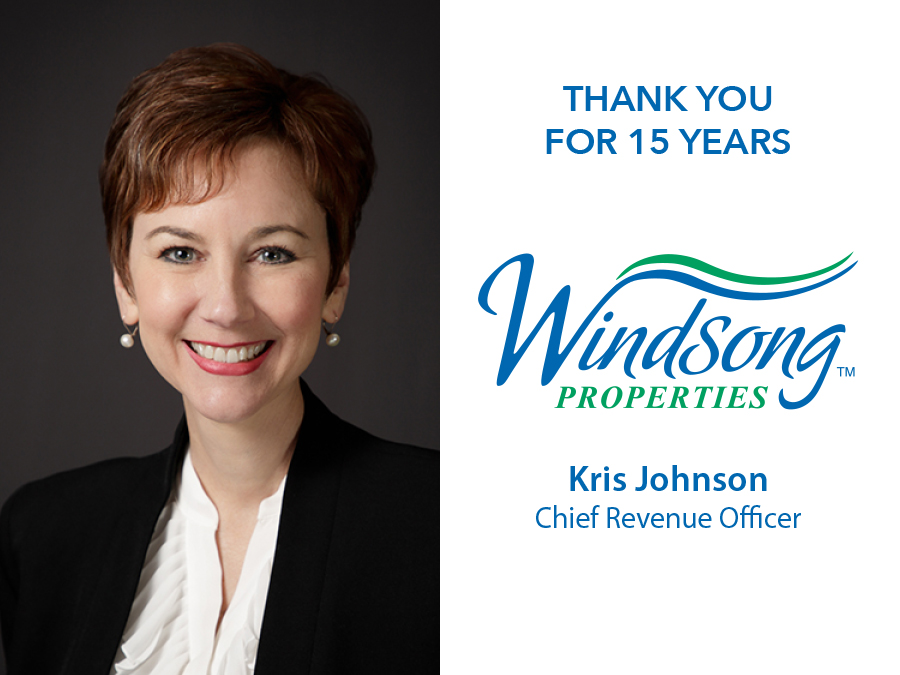 Described by a fellow employee recently as "the heart of Windsong," her career growth mirrors that of the company.
Connecting With Your Purpose
Chief Revenue Officer Kris Johnson began her career at Windsong Properties as on-site sales agent in 2007 at the Villas at Blackberry Run in Seven Hills. She had worked with Windsong in her prior role as a residential realtor for Berkshire Hathaway. "I introduced two buyers to Windsong Properties where they built homes and I began developing a positive working relationship with their on-site the sales team, said Johnson.
"Timing is everything, or is it? Windsong was opening a new community in Cherokee County and needed a sales replacement for Blackberry Run and I was approached to see if I would be interested in selling new construction," she said. "I was attracted to Windsong's people, processes, and products and how happy my buyers were, and I was excited about the opportunity.
Tested by the Great Recession
Soon after joining the company, Kris faced market challenges as the housing recession hit causing the worst market downturn anyone had seen in their lives, according to Windsong CEO Mark Carruth. "We all worked closely to figure out how to survive and she was essential in helping us navigate at a time when nobody was interested in buying."
"When she came in it was an interesting time," Carruth said. "She stuck with it and persevered with the company. She had no choice but to grow personally and professionally and she did that remarkably well."
Years later, in a leadership role, Kris has been a vital part of Windsong's management of the challenges caused by the pandemic including supply chain delays and shortages.
Pandemic Lessons
Succeeding and managing during challenging times have defined Johnson's tenure which she sees as integral to her own growth. "Through the tough times I learn the most about what's possible. You must be creative, open-minded and adaptable while overcoming those challenges which make you stronger individually and as a company," said Johnson.
We have become more collaborative as a leadership team and a company because of the pandemic. The leadership team now functions as a business management team to navigate the daily impact of the current market environment on the homebuilding operation and the customer experience.
People Come First
According to Johnson, delivering a positive customer experience and a quality home is the driver behind every decision made while managing through supply chain disruptions on available products, cost increases and unpredictable delivery schedules. "We focus on processes that improve communication and keep the buyer informed, while setting accurate expectations. Our goal is to deliver a quality home and community that will improve the buyer's quality of life," said Johnson.
"Unfortunately, it takes longer to build and deliver a home in this market, and it can be frustrating for everyone involved. We share weekly buyer progress updates and pictures to help ease buyer's concerns and assist with future planning. Many times, just letting the buyer know their home is being reviewed weekly by the team can be reassuring and increases trust and understanding."
Johnson's leadership style is what many at Windsong say is the key to her success and one she developed earlier in her professional career. "Prior to becoming a licensed Realtor, I was a special education teacher in Cobb County. The experience of helping people become the best version of themselves, while overcoming challenges, paved the road for her people-centric leadership style." said Johnson.
Connecting with Her Team
"When I think of her leadership characteristics, I would say she has always had the ability to connect instinctively with people. She is very self-aware and equally aware of the emotional needs of her team. Kris uses a holistic leadership style to build trust, drive performance and influence those on her team and in the company. Those attributes have assisted her along the career path she is on now. She embodies the characteristics of a great leader."
Windsong sales team member Joyce Schell witnessed firsthand Johnson's approach of investing in people. "Kris was a special ed teacher before she went into real estate which takes a certain personality to see the good in all and sees their strengths. She always builds people up. She is the person that promoted me when I was a sales assistant. She always believed in me and gave me a chance, gave me the opportunity to move into a bigger role and have a new community where I could take ownership. That is how I started, because of Kris. She sees the good and knows your abilities."
Fostering Growth
Johnson has been an integral part of Windsong's steady growth while helping the company navigate the challenges over the last 15 years. Carruth reflects, "When I look back at her career and the evolution of the company, especially in the sales arena, all of the processes and programs that we have in sales, Kris created.
"Over the course of her career with us, the company reflects Kris and the importance she places on relationships -- with the sales team and with buyers. The sales teams embody her philosophy - how to treat people, and how she manages her team," Carruth said.
Reflecting on the Mission
"Our mission and purpose are to improve the quality of life of our team, stakeholders, and customers," Carruth said. "Kris lives it every day and has led the team to fulfill that mission. It is ingrained in the organization, and she clearly had a significant impact in creating the culture we have today."
The people-first culture is why Johnson has remained dedicated to the company for 15 years. "Our average tenure is more than five years, and we have very little turnover here which says a lot about the importance of a supportive work culture and the company's core values. Hiring for cultural fit creates employee alignment and sustains the company's purpose over time, ensuring Windsong is a place people feel valued and challenged," said Johnson. There is nothing more rewarding than helping people and making a difference in someone's life.