Internal Growth at Windsong Continues with New Global Analyst and Builder Roles
Posted:
March, 4, 2021 |
Categories:
News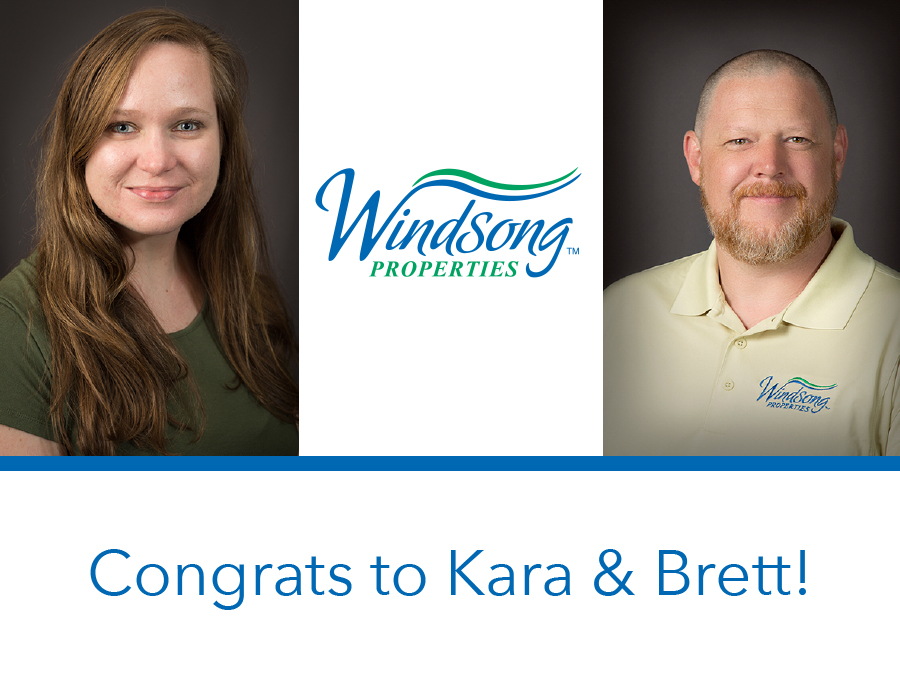 We believe in investing in our employees. By working together to grow all our skills, we become a stronger, more accomplished team. We are excited to share the stories of two employees who have excelled in new roles, making possible our mission of improving quality of life and building excellent homes and communities.
Kara Godfrey has been bringing organization and expertise to Windsong Properties for more than four years. She began as a consultant for our leadership team to assist with operations and business development. Her knowledge of company-wide data and high-level view of every department has helped Windsong streamline our internal and external processes, making growth easier for the entire team.
"We have a 360-degree approach to ensuring the customer has the best experience, product and quality of life," says Kara. "I feel proud every time I go into one of our homes and am in awe of what we've built together."
As Kara saw more of the Windsong culture, she felt it was the right place for her. After working in many industries, from human resources to healthcare consulting, flexibility became a priority. With a young daughter and husband, Kara found the right balance between work and personal life at Windsong. "The trust Windsong put in me, which allowed me to work flexible hours, was a large reason I felt comfortable taking on more and more responsibility," explains Kara.
Kara is excited to move up into her new role as Global Analyst, where she will gather and analyze company-wide data to help inform her existing operational efficiency initiatives. "My birds-eye view of our company work is helpful to every department," says Kara. "I'm excited to expand this work to provide better recommendations for improvement based on informational data."
As Global Analyst, Kara will also be responsible for coordinating our five-year strategic goal setting plan, as well as providing a roadmap to help our teams accomplish those goals. We are thrilled to have Kara working on this new level!
We are also proud to share that Brett Burchfield will be moving into a Builder role after working as a Finishing Manager for two years. Brett originally joined our construction team after finding a passion for building in his extensive restaurant remodeling work. His drive to become a Builder within three years and exceptional dedication to detail, quality and learning allowed him to excel and exceed his goal.
Building leaders from within is important to Windsong. Construction Manager Brian Hester says, "My favorite part of my job is helping my team members reach the goals we set together. It's been amazing to watch Brett stand out and grow in his natural building, leadership and organizational skills."
Brett worked with John Van on our Encore community, gaining experience in our front-end procedures and scheduling protocols. When John left to assist with our Echols Farm project, Brett stepped naturally into the role of finishing out Encore, expertly taking six houses from dirt to finish.
Brett describes his journey at Windsong. "Training with John Van and learning from Brian Hester, as well as the hands-on experience that I got to dive into, really motivated me to become a stronger, better builder," says Brett. "Building quality homes for our homeowners is an honor because I get to see first-hand how important this is to their lives."
As a Builder, Brett will continue to organize building schedules, maintain job sites and ensure materials are ready for our trade partners.
"Strong leadership makes a strong company. That relationship building culture trickles down from the top of the company and shows in every aspect of our work," says Brett. "I think the homeowners can immediately see that. The relationships we build are an important part of our work. From trade partners to homeowners, maintaining positive relationships goes a long way. It's a big part of who we are at Windsong."
For 18 years, our commitment to excellence has been driven by the incredible people we employ. Internal growth is a large part of our overall growth and helps us keep our commitment to providing our homeowners with the best possible experience. Learn more about Brett, Kara and our entire team at our Meet the Team page.