Foods For Boomers to Boost Immune Function
Posted:
April, 8, 2020 |
Categories:
Uncategorized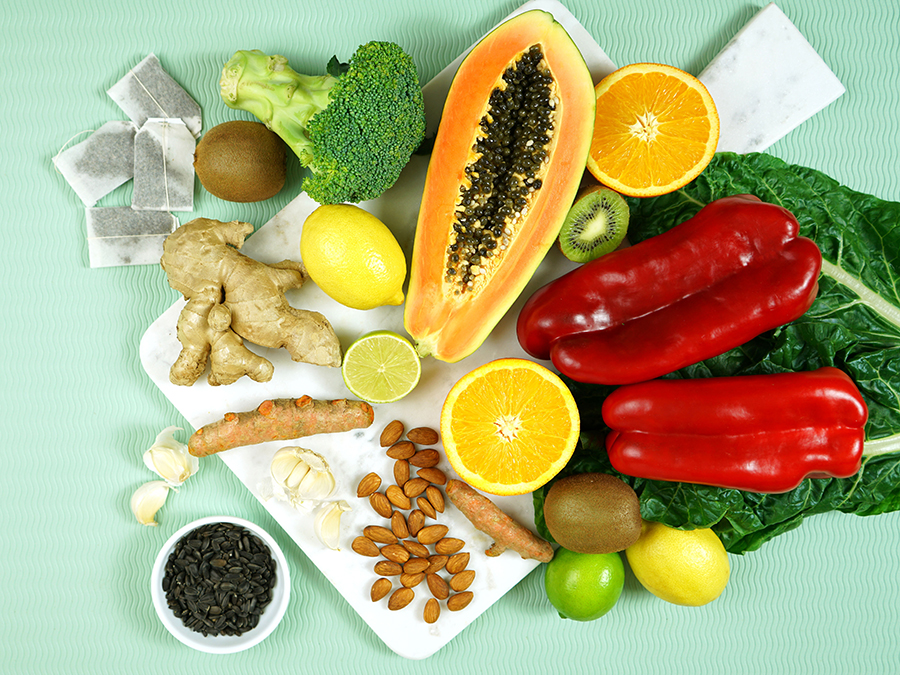 You've probably heard the advice about "eating a rainbow" every day to attain or maintain optimum health – including a variety of fresh foods from bright red berries to orange sweet potatoes, leafy greens to purple grapes, and more.
That "rainbow" doesn't just maintain your health and look pretty, its colorful palette provides a delicious palate, as well!
During our safe-at-home practice, trying new ingredients offers multiple benefits: a sense of joy and accomplishment as we use our kitchens to create something nutritious and delicious; and easier shopping by stocking our refrigerators, freezers and pantries with often-overlooked ingredients. (It's easier to find kohlrabi, for example, than it is to find toilet paper.)
Health experts recommend the following staples for shelter-in-place menus to last a whole month:
Eggs
Frozen fruits and vegetables
Dairy (milk, cheese, etc.)
Dried beans
Tofu
When ordering your groceries, plan to use fresh fruits and vegetables within the first week. Incorporate frozen and dried foods for the rest of the month.
Include "rainbow" foods rich in vitamins A, C, and E, which are important sources of antioxidants that improve and support immune function and keep cells operating the way they should.
Vitamin A, which supports immune system function, is found in red, yellow, and orange foods, including sweet potatoes, carrots, peppers, and beets.
Vitamin C, a source of powerful antioxidants that improve immune function, is found in citrus fruits, leafy green vegetables, and broccoli. (Be careful not to over-cook your greens, as Vitamin C is water-soluble and will be lost if over-cooked.)
Vitamin E, a source of antioxidants that protects cells and promotes cell production, is found in almonds, safflower oil, peanuts, vegetable oils, and avocados.
At Windsong, we've designed the kitchen to serve as the heart of your home, not just when you're entertaining, but when you're preparing healthy meals for yourself, as well.
Elegant features, energy-efficient appliances, and ample storage combine to make your dream kitchen one that will support your health and wellness every day.
Welcome to Windsong – Where Life's A Breeze!