Designing and Decorating for Fall, Boomer-Style
Posted:
October, 13, 2020 |
Categories:
Uncategorized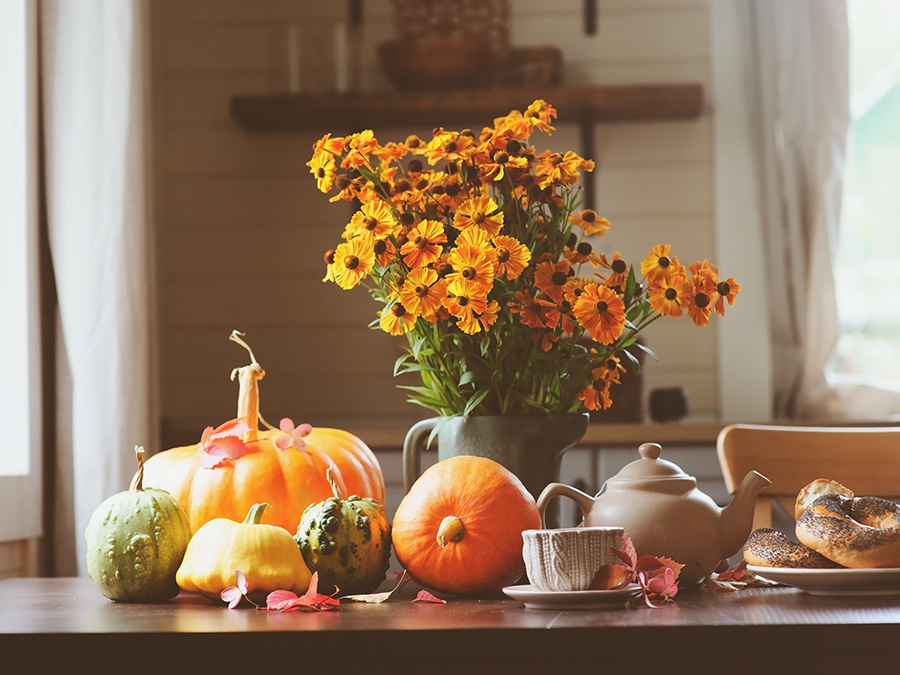 Fall is a time of change: cooler weather invites us to change the clothes we wear, we find it more enjoyable to spend time pursuing outdoor activities, and we look at the insides of our homes with an eye toward the forthcoming winter of cozy nooks and comfort food.
Outdoors, Mother Nature is in the process of redecorating, switching her palette from summer's greens and blues, to the crisp oranges and yellows and reds we associate with Autumn. Take a look at garden center options to re-vamp your front porch and private courtyard, with mums, asters, snapdragons, and ornamental vegetables, including cabbages and kale. Add a few pumpkins, whose color offerings far exceed the traditional orange, and your outdoor décor is ready to perform through the Thanksgiving holiday!
Updating your indoor décor is simple, and inexpensive, if you work around the foundations of your furniture and permanent finishes. While your indoor vibe over the summer included cooler colors, to provide relief from the heat outside, fall decorating invites you to cozy up to warm accents, including wool or woven throws, more substantial area rugs, and swapping the breezy bed coverings for something that chases away the chill.
In the kitchen, incorporate seasonal meals in your decorating, with a stack of brightly colored chili bowls, ready to fill with the savory soups and stews bubbling away in the Instant Pot. Swap out spring/summer dish towels for those in gold, orange, even brown hues. And display those apples and other farmer's market finds in baskets and bowls on the counter.
Of course, spending an evening on the patio around the fire pit – or indoors, with the gas-log fireplace casting a warm glow – offers a preview of the beauty that comes from our chillier seasons.
At Windsong, each home is designed and built around comfort and enjoyment for every season. From spacious kitchens that open to dining and family rooms, to flexible spaces that serve as home offices or studios and guest rooms, inviting master suites, and private courtyards, your home provides comfort and ease no matter the date on the calendar.
Welcome to Windsong – Where Life's A Breeze!