Celebrate Mardi Gras – Boomer-Style!
Posted:
February, 22, 2019 |
Categories:
Uncategorized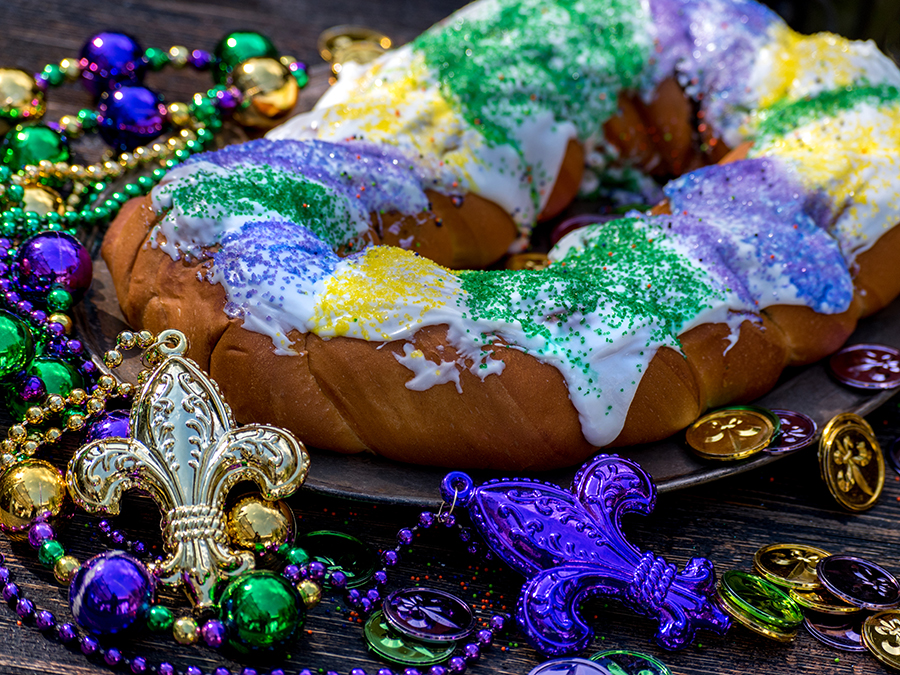 The King Cakes have made their appearance, along with feathers, masks and all things purple, green and gold… It's Mardi Gras Season!
Mardi Gras – A Brief History
"Mardi Gras" is a French term that means "Fat Tuesday," but celebrations extend far back in history to celebrations of Spring, as early as 133 BC.
Around 4 BC, Christians began to celebrate the days between Epiphany (January 6), the date upon which the Three Kings visited the Christ child in Bethlehem. (This is the reason the King Cake, with the baby hidden inside, is a Mardi Gras tradition).
Feasts, elaborate parties, carnivals, and alcohol are associated with the weeks between January 6 and Fat Tuesday, as people celebrate before they fast for the 40 days of Lent, beginning on Ash Wednesday (March 6, this year).
Mardi Gras celebrations take place in countries all around the world, but are usually found at French-settled cities in the United States.
Host A Mardi Gras Celebration
Mardi Gras offers a great opportunity to host family and friends – and meet new neighbors – since the traditional themes are suitable for any size gathering.
Food
Red Beans & Rice, Gumbo, Fried Chicken, and Jambalaya are traditional Mardi Gras meals in the United States, as they are the French/Gulf Coast-Cajun foods available in and around New Orleans.
French crusty bread is the perfect complement to any of the main course menu items.
King Cake – buy one, or make one, to serve as the centerpiece (and tasty dessert). Make sure to use a light glaze covered with purple, green, and gold sugar crystals… and don't forget the plastic baby! (Tradition dictates that whoever finds the baby in their slice of King Cake hosts the next Mardi Gras party).
Attire
Mardis Gras costumes are often elaborate, but guests can dress up even a simple outfit with a mask, cape, or feather boa, and fit right in with the celebration.
Decor
Plastic coins, beads, and bracelets turn any table or display into a Mardi Gras celebration.
Colors associated with Mardi Gras are Purple (representing Justice), Green (Faith), and Gold (Power).
Windsong homeowners may decide to turn each home into a stop along the "parade" route, with guests sampling food and drink, and collecting beads on their way to the big party at the community clubhouse.
Whatever type of party you choose, the guest list is built in to each Windsong community, with neighbors who share similar life-stage experiences, and a common interest in creating a carefree lifestyle.
Welcome to Windsong – Where Life's A Breeze!