Boomers Take Advantage of Learning New Skills
Posted:
September, 17, 2021 |
Categories:
Uncategorized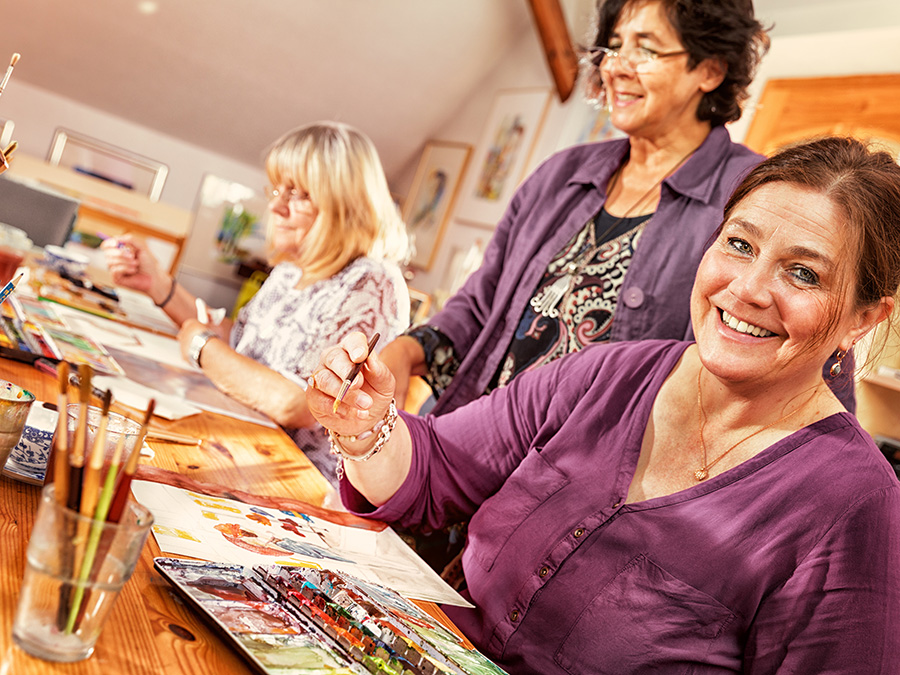 Have you ever wanted to learn to speak Italian? Paint with oils or watercolors? Play piano? Play Bridge? Become a Master Gardener? How about meditation, yoga, tai-chi, or salsa dancing?
For decades, as we've lived and worked toward the day when we'd have time to write the memoir or plant vegetables or travel… and now we have the time! And with a new home in a carefree community, there are no more excuses: it's time to pursue our interests and Learn Something!
Classes and workshops are available all over the place, including through Parks and Recreation departments, the YMCA, and the local college campuses, to name a few. You can also check out some of the local restaurants and specialty food shops, many of which offer cooking classes, or classes in wine-pairings, decorating the dining table for the holidays, and more.
And if you aren't comfortable taking an in-person class, many classes now are offered in "hybrid" format, which includes video conferencing paired with students in the classroom, so you can take your class from anywhere.
Speaking of video classes, that's another new skill you can learn: mastering this new virtual world, including chats with friends or family. Maybe you'll start your own podcast! Or offer a tutorial on something you enjoy and are good at.
Pretty much anything you want to do these days has a YouTube video associated with it, offering another learning outlet for everything from carpentry to car repair, plumbing to painting, dog-grooming to home decorating.
Although we tend to think of learning as something our children do, studies reveal a link between lifelong learning and overall health and wellness.
Traditionally, "lifelong learning" applies to personal development that takes place outside of a traditional classroom setting; the overwhelming popularity of self-enrichment courses at colleges and universities has altered that definition.
What are the benefits? Research suggests that folks discover (or rekindle) personal interests or hobbies, often leading to new acquaintances and friendships. Learning something new requires self-motivation to study, attend the courses, and complete projects, which tends to spill over into motivation in other areas of one's life. As new skills are mastered, confidence grows, along with self-satisfaction, fulfillment, and a sense of accomplishment.
Long-term benefits of learning include increased brain activity, decreased risk of brain-related diseases (such as dementia), and increased happiness. And lifelong learning is linked to longevity, as well!
At Windsong, each community encourages living your best life. Wide sidewalks, community spaces for gathering and activities, outdoor living spaces, flexible living spaces in each home, opportunities to meet neighbors and forge friendships, and proximity to shopping, dining, and entertainment destinations, encourage lifelong learning and personal growth.
Welcome to Windsong, Where Life's A Breeze!