Boomers Set Standard for Distance-Gathering
Posted:
June, 11, 2020 |
Categories:
Uncategorized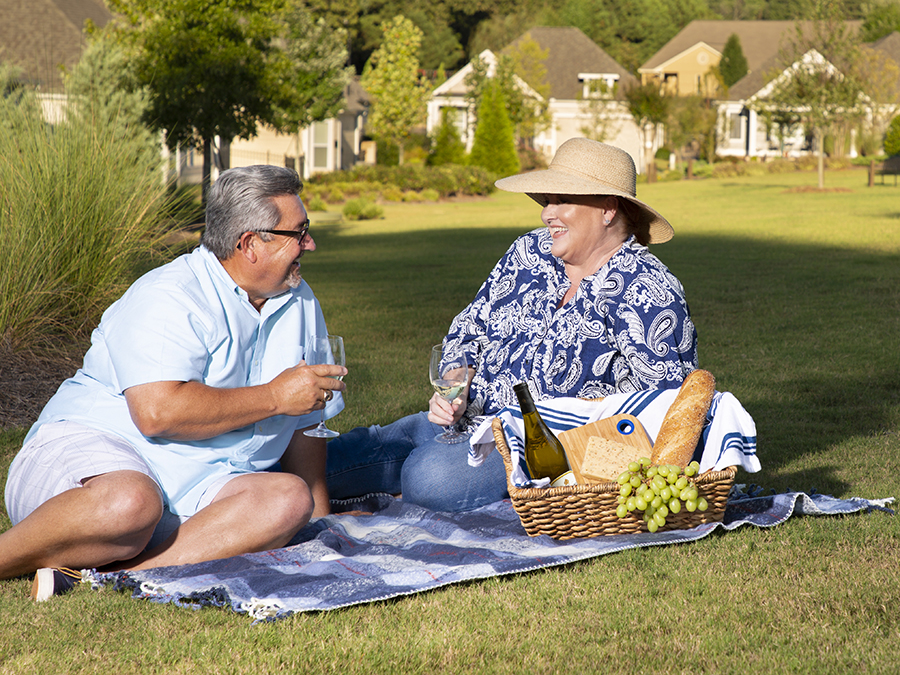 Bunco gatherings. Picnics. Walking for fitness. Movie-watching parties.
These are just a few of the activities that define the abundant lives of Active Adults who have found the homes and neighborhoods that they now call home.
Believe it or not, these activities are still possible, while maintaining physical-distancing guidelines that help maintain health-safety.
How do social Boomers carry these off? It's easy!
BUNCO
Tables are set up in the driveway of the host/hostess, along with a pump bottle of hand sanitizer. Tables are set up six feet apart, and participants wear masks while sitting together at the tables. Each guest brings his or her own beverage and snack. Regular Bunco rules apply, with a reminder to "sanitize hands" in between rolls of the dice. After all games are played, participants enjoy their own snacks and beverages while continuing to socialize at a safe distance.
PICNICS
If you've ever attended a concert in the park, you know how easy this one is! Picnic-goers pack their own food and beverages, a large blanket and perhaps a couple of pillows, and set up their "outdoor dining" space on the front lawn of the host/hostess, or in the agreed-upon common area. Participants chat, laugh, and enjoy the company of neighbors from the health-safe distance of their own picnic blankets.
WALKING
June is a hot month, so follow the same precautions you normally do this time of year, and check the temperature before heading out to walk. Carry a bottle of cool water to help you stay hydrated. Wear the appropriate attire including sunblock, UV-blocking sunglasses, a hat or visor… and a mask. And walk at a pace that is comfortable for the temperature and your own fitness level. The combination of your mask and maintaining your own side of the sidewalk meets the health-safety requirements, while walking with a friend offers both exercise accountability and much-needed companionship.
MOVIE-WATCHING
Drive-In theatres are coming back into vogue! (Didn't think you'd see that happening, did you?) But outdoor movie-viewing is as easy as hanging a sheet or erecting a portable screen and inviting everyone to bring a chair or picnic blanket to share in the entertainment in the common areas or on a neighbor's lawn.
Luxury homes built with attention to quality, and desirable locations, are just a few of the elements home buyers have come to expect from Windsong. But one of the main reasons home buyers cite for purchasing a Windsong home – and loving every minute of living in a Windsong community – is the sense of community and the friendships forged between neighbors who share similar life-stage experiences.
Welcome to Windsong, Where Life's A Breeze!