Boomers & Barbecue
Posted:
May, 22, 2018 |
Categories:
Uncategorized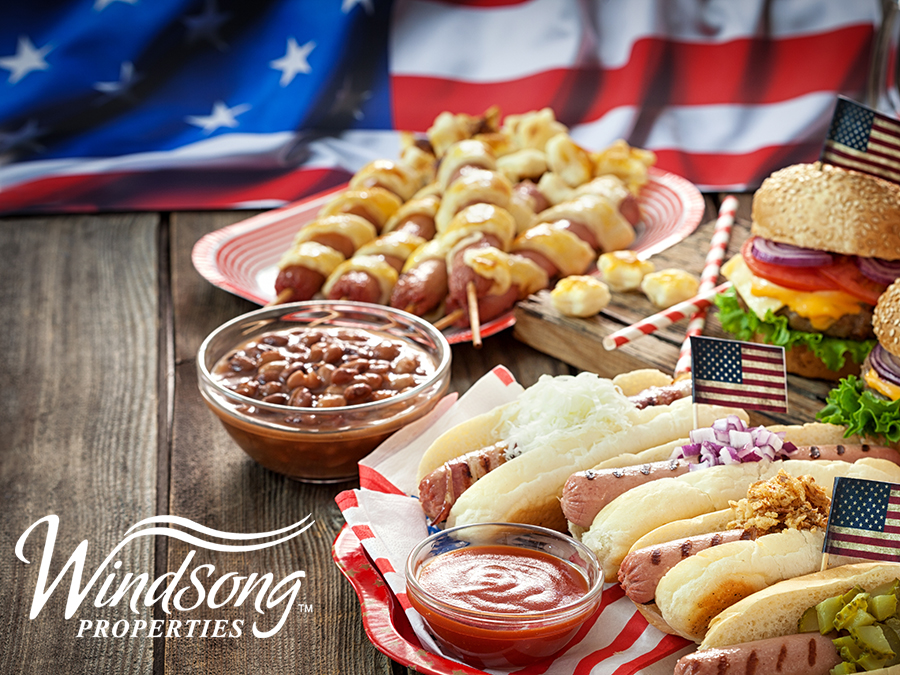 May is National Barbecue Month, and since Memorial Day weekend kicks off the official summer grilling season, we thought we would help you celebrate with some tips and tidbits about how to welcome the season in style.
Definition of "Barbecue"
Depending upon where you travel in the United States, "barbecue" is a verb or a noun. As a verb, "barbecue" refers to cooking food (traditionally, meat) with fire or smoke, on a grill or in a vessel, using wood or charcoal. As a noun, "barbecue" is pork, beef, or chicken that is slow-cooked over the course of one or more days with a sauce that can be vinegar-based, tomato-based, sweet, or savory, depending upon the region and the preference of the chef.
If you are preparing your own barbecue at home, you'll want to set up your grill or smoker on the patio or in your private courtyard, where the aroma will entice the neighbors to join you for your meal (in a favorite Windsong entertaining style, known as a "block party").
Tools for the Perfect Barbecue
Grill or smoker
Cooking utensils with long handles, usually covered in wood or a heat-proof material.
Wood, charcoal, gas, or electricity (depending upon the type of grill/smoker you use).
Thermometer, to ensure even cook temperature
Ingredients for your Barbecue Meal
Meat – generally pork, beef, or chicken (although fish and lamb also are used).
Sauces, as desired – sweet or savory; tomato-based, vinegar-based, or your own "secret" recipe. (When using a sauce, be sure to have a long-handled basting brush, with which to liberally apply your sauce to the meat).
Vegetables or other side dishes (may be prepared on the grill or smoker, or in the kitchen… or purchased pre-made from your local grocery store).
Tips for the Perfect Barbecue
Don't over-cook your food, in terms of too much time or too much heat.
According to FoodNetwork.com, cook poultry at 165-175 degrees, beef and lamb 125 (rare) to 155 (well-done) degrees, and pork 145-160 degrees.
Cook "low and slow," to prevent under-cooking or burning the meat.
Let the meat "rest" after removing it from the grill. This allows the juices to return to the meat for a more flavorful experience.
At Windsong, we design our homes and communities to maximize comfort, enjoyment, social interaction, and opportunities to enjoy the outdoors.
Each Windsong home features a front porch, perfect for a visit and a glass of lemonade on a hot day, and private patios and courtyards make a perfect entertaining space, especially around the barbecue grill "kitchen."
Don't forget the ice box pie and sweet tea over this holiday weekend!
Welcome to Windsong, Where Life's A Breeze!