Behind the Scenes at Windsong: Partnering With Habitat for Humanity
Posted:
May, 4, 2022 |
Categories:
Uncategorized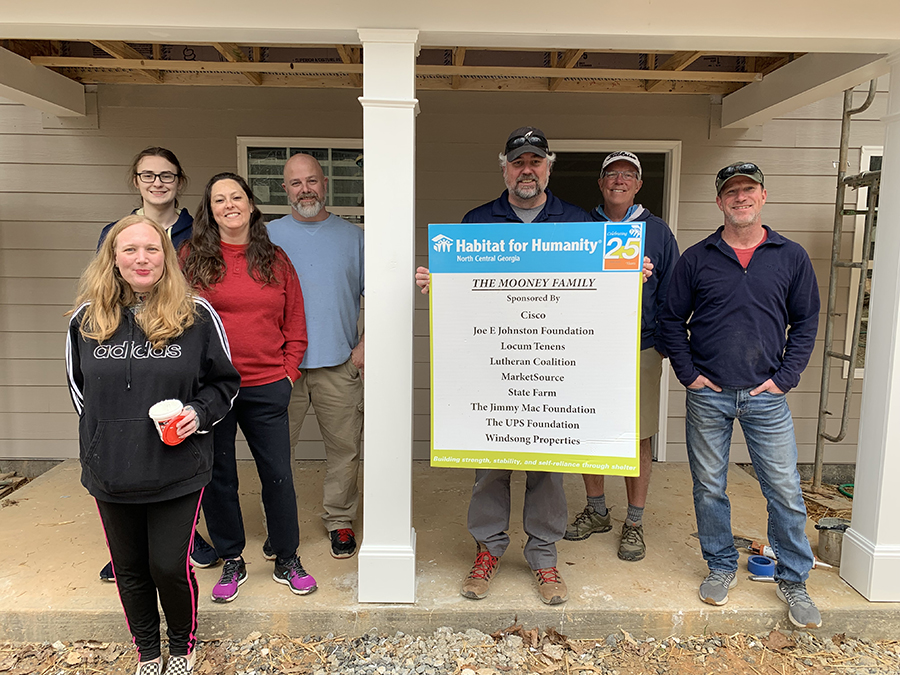 "We look at these relationships as a partnership that is ongoing and long term, and we are blessed to have Windsong as a part of our Habitat family."
Ever since Windsong built its first community nearly 20 years ago, we have forged connections with our neighbors and communities, partnering with local governments, businesses, and charitable organizations. No partnership exemplifies that connection to community more than Windsong's relationship with Habitat for Humanity of North Central Georgia.
This April, Windsong participated in our 10th home build with Habitat, providing funding and volunteers to help construct a new home. According to Sabrina Kirkland, vice president, development & strategic initiatives for Habitat of North Central Georgia, this is the continuation of a long partnership. "We look at these relationships as a partnership that is ongoing and long term and we are blessed to have Windsong as a part of our Habitat family," she said. This partnership deepened over the years, supported by Windsong co-founder Steve Romeyn, a longtime member of the Habitat board.
While many are familiar with the impact of Habitat and its ability to change lives for the better, the current challenges in the supply chain and real estate market make the support of partners more important than ever. According to Kirkland, building material costs and availability make it more difficult to stay on a schedule. Coupled with the rising cost and scarcity of property, the cost of an average Habitat home locally has increased from around $150,000 - $160,000 to nearly $200,0000. She estimates that without volunteers like Windsong's participants, the cost of a home would jump to $250,000 - $260,000.
Windsong volunteers painted the exterior of a home in Canton, Georgia. The new home is for the Mooney family, consisting of mom Ashley and her three girls. Along with Windsong, volunteers from other companies and civic organizations donated their time to make the home more affordable for the Mooneys.
As a builder and developer, Windsong brings a little more than most companies to a Habitat build. "They bring unique skills to a workday," said Kirkland. "The days go fast and well because of that, and they are incredible to work with. They are uplifting and supportive, which creates an environment of camaraderie that is very encouraging. When we have skilled volunteers like Windsong's, it makes our unskilled volunteers more comfortable in learning. It is an incredible feeling for those folks to contribute and leave with an amazing sense of what they can do."
Along with skills and attitude, Kirkland sees in Windsong volunteers the desire to serve. "They do a lot in the communities they build, so to work with Habitat to build affordable homes is amazing. Their willingness to serve makes a bigger impact for us. We could not do what we do without partners like Windsong and their volunteers giving their own time to support us."
Along with the satisfaction of connecting and contributing to their community, Kirkland sees another benefit for volunteers. "In the long run, it's great team building. Teams can get to know each other. They may not have a chance to be together often, so this is a great way to do that in a relaxed environment." Windsong also takes the opportunity to invite contractors and other partners to participate in build days, giving us another opportunity to cultivate important relationships.
Windsong's latest home with Habitat will be completed and dedicated in June. To learn more about Habitat of North Central Georgia visit https://habitat-ncg.org/.