At-Home Exercises for Active Adults
Posted:
April, 16, 2020 |
Categories:
Uncategorized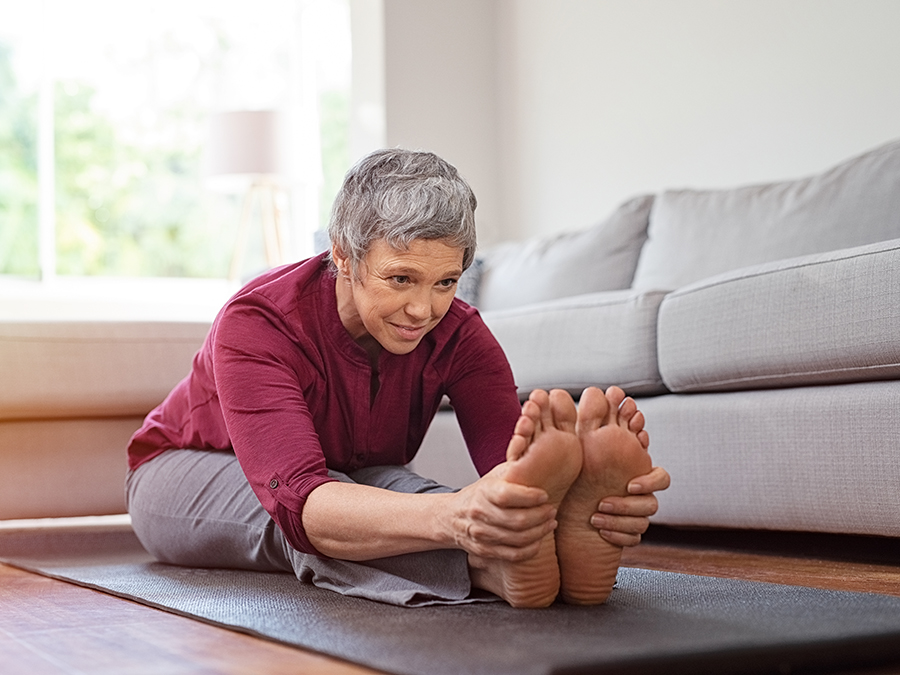 Staying active is easy when you have a gym membership and your personal trainer or fellow participants hold you accountable. But maintaining a strong, healthy body while staying safe at home requires just a few simple modifications, and some floor space in front of your television or computer screen.
Silver Sneakers recommends strength and balance exercises that help maintain fitness and are easily performed in your home – with or without video instruction:
Strength and stretching exercises, including traditional or modified squats, presses, and more, can be practiced throughout the day to provide mini-workouts in place of at-the-gym warm-ups.
At-home Cardio – standing in place and "marching," raising your knees as high as you can; alternating "toe taps," standing with feet shoulder-width apart, then crossing to tap right toe in front of left foot, left in front of right; and "back-jacks," like jumping jacks, but alternating feet to step back while clapping hands in front of you.
Or access gym-type workouts at home with Silver Sneakers apps on your tablet, phone or Facebook Live.
Many people practice yoga to maintain flexibility and body strength, while achieving a clear mind and alleviating stress. While studio yoga classes are not currently an option, online yoga regimens are easy to follow via video on your computer or YouTube through your cable provider. Classes for a variety of skill and fitness levels are available, including beginner, slow-and-gentle, and even chair yoga! Contact your yoga instructor to find out if they are offering remote classes, or check out yogawithadriene.com.
Tai Chi is popular with fitness enthusiasts of all ages, and is often offered at resorts, in parks, or at community centers. This gentle, slow exercise promotes balance and agility, and is popular among active adults. Visit taichiproductions.com for online versions of Tai Chi classes for all levels.
On these lovely springtime days, don a comfortable pair of shoes, sunglasses, and a mask, and take to the sidewalks – while maintaining a six-foot distance from other outdoor home-exercisers – to enjoy a walk through the community.
And if you truly desire accountability and the feeling of the camaraderie of your regular workout partners, organize a Zoom meeting, and all of you can work out together! Visit Zoom.us to learn more.
Windsong homeowners have an advantage for exercising at home, with open floor plans and flexible living spaces that can easily serve as a home gym; wide sidewalks that span the neighborhood; and of course private outdoor spaces that make staying in shape – and staying at home – a breeze!
Welcome to Windsong – Where Life's A Breeze!