April Activities for Active Adults: Farmer's Markets
Posted:
April, 7, 2021 |
Categories:
Uncategorized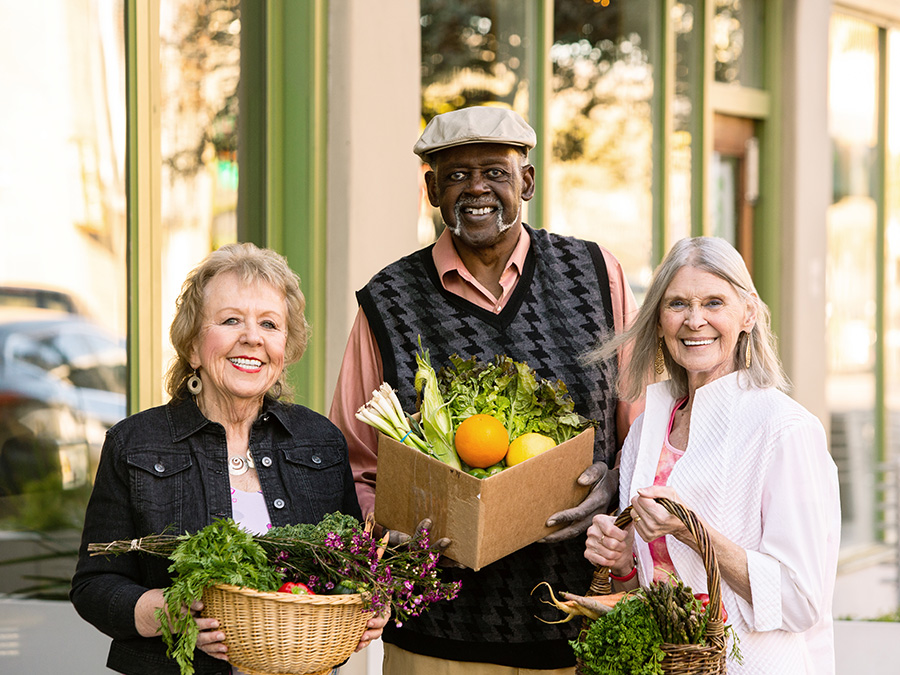 April and May are when local, seasonal farmer's markets open in Georgia venues convenient to Windsong communities, providing the perfect excuse to wander, enjoy the weather, socialize, and maybe bring home fresh ingredients for your next meal.
Farmer's Markets are a staple in many communities these days, offering benefits that stretch beyond the heirloom tomatoes or free-range eggs. Local markets generally offer better nutritional value, taste, and freshness than their fruit-and-vegetable counterparts in the grocery store, as well as providing environmental, economic, and social benefits.
Fresh produce is generally picked within a few days of its offering at the market, as evidenced by its color, ripeness, and taste. Be prepared, however, to find that produce offerings vary as the season progresses: local farmers offer what is growing best in their gardens at that time of year, which experts suggest is better for our health and nutrition in the long run.
Because these markets are supported by farmers who are part of or near the market location, the environmental impact is significantly less than produce that must be shipped across the country. Your purchases also support local farmers and their families, contributing to the local economy. And while fertilizers may be used, many local farmers opt for natural growing options – organic or as close to it as possible.
Finally, even with health-related precautions, Farmer's Markets offer opportunities to connect socially with people in your community, from the farmers and artisans you support, to neighbors and friends with whom you stop and chat.
Local markets open in April include:
Woodstock Farm Fresh Market – Saturdays, 8:30 am – noon. Located on Market Street in Downtown Woodstock.
Acworth Farmer's Market – Fridays, 8 am – noon. Located at 4405 Cherokee Street, Acworth.
Downtown Alpharetta Farmer's Market - Saturdays, 8:30 am – 1 pm, at City Center, adjacent to the Town Green.
Roswell Farmers & Artisans Market – Saturdays, 8 am – noon at Roswell City Hall, under the oaks.
Additional markets will be opening in Dallas (Paulding County), Cartersville (Bartow County), Canton (Cherokee County), and Marietta (Cobb County), in May.
Each Windsong community is strategically located with easy access to local shopping, dining, and entertainment opportunities – and Farmer's Markets provide all three!
Welcome to Windsong – Where Life's A Breeze!
For more information about the benefits of local produce, read Barbara Kingsolver's 2007 memoir, "Animal, Vegetable, Miracle".