Active Adults "Take A Hike" for Exercise & Enjoyment
Posted:
June, 10, 2019 |
Categories:
Uncategorized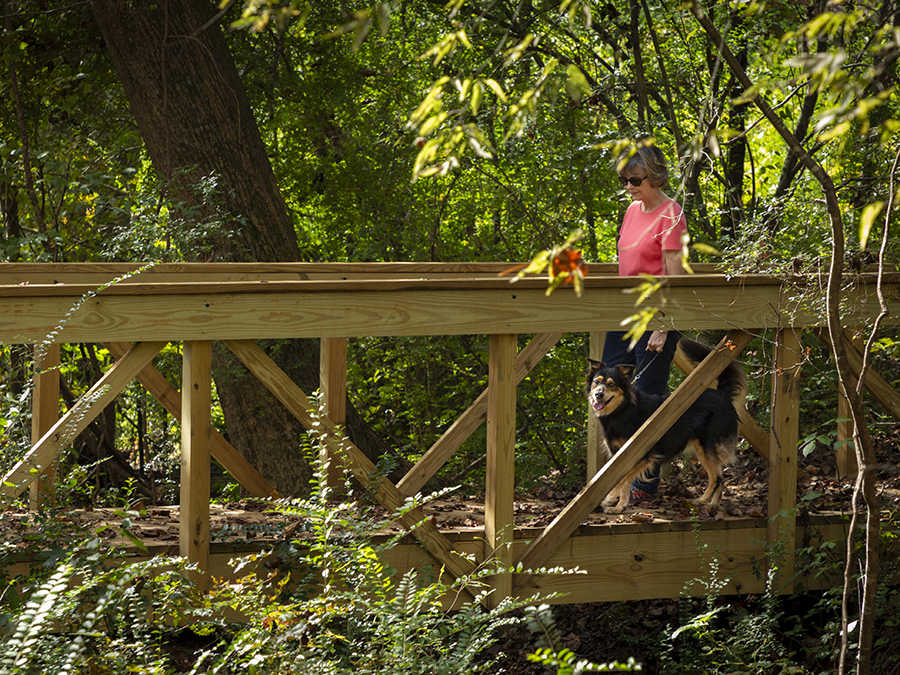 The American Hiking Society designates the first day of June each year as "National Trails Day," encouraging people to hike, clean up a trail, and volunteer for trail-service projects.
Although June 1 has already passed (can you believe it?!), hiking trails close to home make this an activity in which Boomers can participate anytime they like. Best of all, it's not an age-specific activity, so it's a great way for grandparents to bond with grandchildren who are out of school for the summer, and for pet owners to enjoy some exercise with their dogs (check trail websites before taking pets. All of the trails listed on this blog are dog-friendly).
With dozens of trails to choose from close to home, we've chosen a few with some special features, including:
Sope Creek Paper Mill Ruins Trail
Part of the Chattahoochee River park system, this trail is tucked behind a neighborhood on Brook Hollow Circle in Marietta, and has long been one of the most popular suburban trails because it is fairly easy to navigate for most fitness levels. The 1.5-mile loop trail runs along Sope Creek and offers views of the Civil War-era Sope Creek paper mill.
Silver Comet Trail
The Mavell Road Trailhead in Smyrna is where the Silver Comet Trail begins in Georgia, extending 61.5 miles along an abandoned railroad line to Cedartown, at the Georgia-Alabama state line. The trail is pet-friendly and open to walkers/hikers/joggers, bikers, and non-motorized recreational vehicles.
Wildwood Park
Located next to Life University in Marietta, this 28+-acre park offers 2 ½ miles of walking/hiking trails, plus an off-leash dog park.
Heritage Park
This 105-acre nature preserve in Smyrna features a 1.7-mile soft surface trail loop (not suitable for biking or vehicles), with elevated boardwalks over sections that include wetlands. The park offers a view of Nickajack Creek, as well as the Concord Woolen Mill ruins.
Kennesaw Mountain Battlefield Park
Open daily during daylight hours (except for a handful of holidays), Kennesaw Mountain features walking/hiking trails that are a bit more challenging in terms of trail elevation. Loop trails extend from two to sixteen miles.
The American Hiking Society organizers remind trail users to leave a trail better than you found it. Remember the old adage, "take only pictures; leave only footprints."
Walking/hiking is among one of the best forms of exercise for active adults, according to medical professionals, as regular participation improves cardio-respiratory fitness, muscle tone, body weight, and physical strength, while lowering the risk of heart disease, stroke, high blood pressure, type 2 diabetes, high cholesterol, and triglycerides.
Each Windsong community is located within easy driving distance to these and other notable trails in Georgia, and walking offers an opportunity to bond with neighbors who also want to stay fit and social.
Welcome to Windsong – Where Life's A Breeze!