Active Adults Give Back While Staying Home
Posted:
April, 30, 2020 |
Categories:
Uncategorized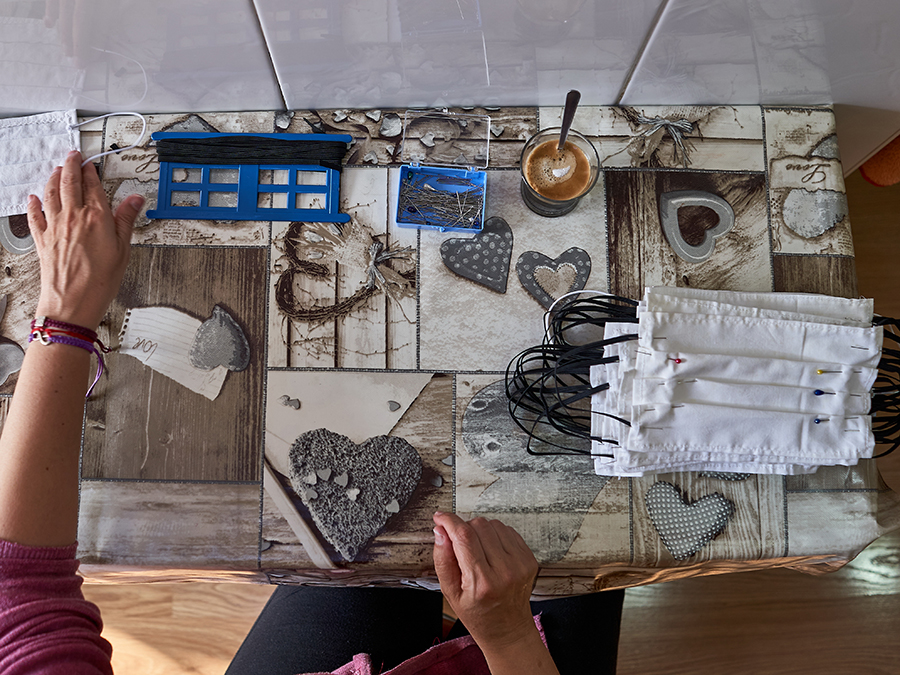 More than 12.6 million Active Adults (ages 55 and up) regularly participate in volunteer projects, in which they donate time, services, goods, and financial support, to organizations that are important to them.
"Social-distancing" has put a kink into volunteer activity, but organizations that regularly rely on volunteers to support their causes still need that support, and many of them have transformed regular volunteer programs to be performed from home. While in-person volunteering provides a social outlet, enabling Active Adults to meet and interact with others who share similar interests, remote volunteering offers opportunities to meet and interact virtually, while providing necessary support.
MASK-MAKING
Whether you're an expert at the sewing machine, or your machine has occupied the same space in the attic or closet for years, creating masks is easy to learn through online tutorials, and supply kits are available FOR FREE through Joann Fabrics. The fabric chain will even handle distribution of masks to businesses, from health care facilities to grocery stores and factory workers. (While homemade masks can't replace a surgical-grade mask, nurses and triage professionals use them to cover medical-grade masks that they have to wear multiple times.)
FOOD DONATIONS
When ordering your groceries from the local market, consider ordering extra non-perishables, such as canned goods, cereals, bulk rice or beans, and the like, to donate to a local food pantry.
TUTORING
Skills that you used daily in the workplace often are helpful to students who require assistance with math, reading, and more, especially since classes moved to an online platform. And while many school systems are finishing the school year in the next couple of weeks, many students will need help over the summer to prepare for the SAT or ACT, or to complete college applications, write essays, and more.
LISTENING
Nobody enjoys being at home all the time, but for those who already struggle with anxiety, this change in their routine may mean they need a calm, empathetic individual to simply listen to them once in a while. Contact Crisis Textline for more information.
And if you want to figure out how to match your skills or interests to an online volunteer opportunity, visit allforgood.org, which lists volunteer opportunities that you can participate in from home.
Each Windsong community is designed to encourage neighbors with similar life-stage experiences to meet one another, share stories, and exchange ideas. And a large number of Windsong homeowners often share their expertise as volunteers, as well.
Welcome to Windsong, Where Life's A Breeze!