Active Adults Find Happiness at Home
Posted:
July, 21, 2022 |
Categories:
Uncategorized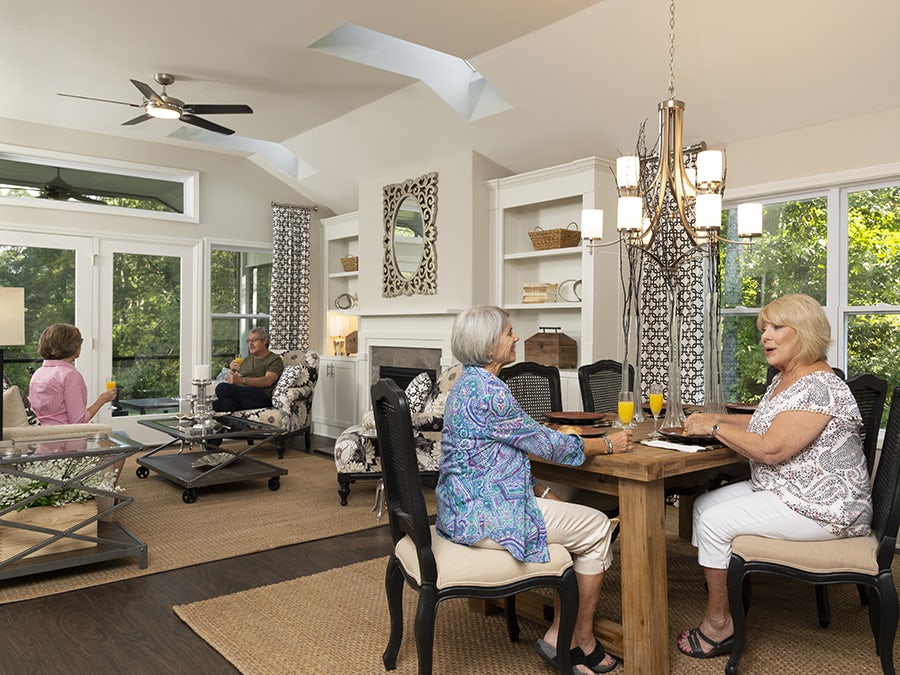 "The good life is a process, not a state of being. It is a direction, not a destination." ~Carl R. Rogers
As this post is being penned, much of north Georgia is in a tug-of-war between scorching temperatures by day and thunderstorms by night. We may celebrate the rain and curse the heat, but the truth is that both are part of life these days, parts of the four-season climate we are fortunate to have.
Outdoor plans may be canceled or postponed by either of these weather conditions, causing us to say, "I'm not happy about this."
Thankfully, overall happiness is not determined by a single moment, a single statement, or a single weather event. Nope; as Carl R. Rogers wrote so eloquently, it's not a state of being, but a process. That means we choose how we feel.
At Windsong, the good life can be found in so many things: a floor plan that suits our daily needs, a kitchen that allows us to cook a meal or bake a yummy dessert while chatting with friends in the next room or enjoying a movie streamed directly to our televisions.
It can be found in the sound of lawn mowers and edge trimmers whirring outside the window, maintaining the front yards and common areas where we walk when the weather is agreeable.
Happiness is the knock at the door on a cool morning, with the invitation to "get your steps in" on the wide sidewalks while chatting amiably with a neighbor who has become a friend.
Peanuts creator Charles M. Schulz is famous for saying, "Happiness is a warm puppy" (with a sketch of Snoopy embracing Charlie Brown). Pet lovers enjoy their warm pup (or kitty) in their luxury ranch home, with a private courtyard where Fido or Fluffy can safely explore – or accompany their human-parent on a stroll through the neighborhood.
At Windsong, we understand that the good life is a process, and it's one we've been practicing over the past two decades as we design and build the luxury homes celebrated by the Active Adults who live in them.
A trail of smiles and satisfaction can be found in existing communities sprinkled throughout Cobb, Cherokee, and Paulding counties; and the joy of anticipation is the beginning of the journey for folks in the process of becoming Windsong homeowners in one of our new communities.
We continue the tradition of providing the destinations where you can direct your hobbies, interests, and enjoyment of friends and family toward the state of being that is the good life.
Welcome to Windsong, Where Life's A Breeze!